Andrew Major
Solution Focused Clinical Hypnotherapist
"I'm a professional Solution Focused Clinical Hypnotherapist and Psychotherapist practicing across the world online and at my clinic in Bagshot, Surrey in the UK. I'm registered with professional bodies, which means I'm fully qualified and fully insured to practise hypnotherapy. I am committed to the highest standards and follow a professional code of conduct. I continually keep my skills updated. I'm passionate about what I do, what could be more rewarding than helping people in a positive way gain better enjoyment of life.
If you're ready for change, I'm here to help. Please get in touch to discover more, I'd be happy to explain what hypnotherapy is about and how it could help you. I look forward to hearing from you".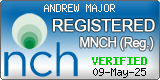 I've always been fascinated by the human mind. I first became interested in helping people reach their true protentional having spent many years in my corporate marketing career managing and coaching people to recognise and release their own potential. It showed me the benefits this had on general emotional wellbeing and productivity, which sparked my interest in doing more to help. Having trained with the prestigious Clifton Practice in Bristol, a recognised and accredited Centre of Excellence in Clinical Hypnotherapy and Psychotherapy, I now feel very lucky to be able to share my knowledge and skills working with clients every day, helping them to gain a better quality of life. Very rewarding!
Originally from rural Berkshire over the years my career took me to Yorkshire, Surrey, London and back to Berkshire again working for various blue-chip organisations. I've now established my hypnotherapy practice in Surrey, Bagshot and offer hypnotherapy online for clients further a field.
I've helped many clients with different issues and really enjoy my work. I also enjoy giving talks and running workshops with groups and businesses to help them support their employees and members with mental health initiatives which are so important in creating a happier and healthier culture for loyalty, productivity and creativity.

I also work as part of the Executive committee at the Association for Solution Focused Hypnotherapy (AfSFH) as Head of Marketing. We're a working to further the practice of Solution Focused Hypnotherapy by supporting and developing the skills and interests of members engaged in that profession, as well as increasing public awareness.
When you're ready, feel free to get in touch to ask me a question or book a free initial chat so we can explore what you want to achieve and give you some advice without obligation. I'll be able to answer your questions and help you understand how hypnotherapy works to get you the results you need to make great improvements to your life.
Free parking available at each practice location
All major credit and debit cards accepted
Hypnotherapy also available via Skype or Zoom