Stop Smoking and Win Back Your Health
Solution Focused Hypnotherapy in Farnham and Bagshot
Are you ready to stop smoking but struggling to quit for good? If you've decided the time is right then Hypnotherapy is effective, quick and doesn't rely on willpower
Where you're at…
So, you want to stop smoking, but are struggling to be free? Perhaps you've switched to patches, gums or vaping which has taken over instead?
Often the addiction rules your life despite being worried about your long-term health not to mention the financial burden it places on you. Maybe you're struggling to catch your breath to keep up with others?
If you've decided that you don't want to your life to be controlled by smoking anymore and now it the time to stop for good, hypnotherapy can help you stop smoking quickly and easily, regardless of how many a day, or for how long you have smoked. Scientific research now shows that hypnosis is more effective than nicotine replacement techniques or will power*
*The results of a recent randomised trial show hypnosis to be more effective than nicotine replacement therapy Complementary Therapies in Medicine Feb 2014
Request an initial chat to explore how Hypnotherapy can help you stop smoking for good.
Why Hypnotherapy is effective
One session and stop for good! 
It's not a magical process, but if you have the motivation and desire to change then hypnotherapy gives you the tools to stop for good after a single two-hour session
It can be difficult to stop smoking 'cold turkey' because your powerful subconscious mind becomes a very persuasive advocate for smoking sending messages to your conscious mind giving you all the reasons why you need to smoke or telling you that you just can't quit.
Despite knowing the risks involved, making the decision to stop smoking for good can seem like a daunting task, letting go of a crutch that you wrongly believe helps you relax, relieve stress or provides time out from daily work or family pressures.
Hypnotherapy helps you understand the internal conflict in your mind and why fear often gets in the way of stopping.
We use hypnosis to reprogram your subconscious mind and remove the fears and underlying issues associated with quitting, so you'll have an awareness of the triggers and underlying reasons for your reliance. It takes away your desire to smoke so you can stop straight away.
Here's what my clients are saying…
"I contacted Andrew and immediately liked his approach and kindness during our initial telephone conversation. I immediately felt full of hope. Once I met Andrew I was instantly put at ease, he gave me the chance to speak without being judged".
"I felt an immediate sense of calm straight after the hypnotherapy, which has continued to this day. I have found the whole experience to be a life changing event for me and I shall be forever grateful to Andrew for his wonderful approach and expertise. I am three months in and haven't even thought about cigarettes!"
Dawn, Surrey
How does hypnotherapy work for stop smoking?
When you're ready for change and determined to succeed, hypnotherapy gives you the tools to stop for good after a single two-hour session using a combination of solution focused hypnotherapy and NLP techniques. Here's how the process works:
We talk and understand why you smoke and how you smoke

I explain how the mind works in relation to smoking, helping you develop a different mindset in relation to smoking
Hypnosis is used to reprogram your subconscious mind, removing any conflict and fears that have held you back so you can use your mind in a fundamentally different way taking away your desire to smoke

You will no longer see smoking as something you like
Hypnosis is also very positive and uplifting experience so when you leave you will feel more relaxed, calmer with a new sense of achievement

You'll also receive a hypnotic relaxation audio track to listen to at home which reinforces the process
If you've decided the time is right to stop smoking, get in touch with Andrew for an initial chat to find out how hypnotherapy can help you quit for good.
Andrew Major
Solution Focused Hypnotherapist and Psychotherapist
HPD, DSFH, AfSFH-Reg, MNCH-Reg, CNHC-Reg, MNCP
I'm a professional qualified Solution Focused Clinical Hypnotherapist practicing in Farnham and Bagshot and working with clients further a-field online. I have a a Diploma in Hypnotherapy and Psychotherapy, (DSFH). I've also been awarded the prestigious Hypnotherapy Practitioner Diploma (HPD), considered to be the 'gold standard' hypnotherapy qualification.  I'm passionate about what I do, what could be more rewarding than helping people make the positive changes they need to feel better, happier and more motivated to enjoy life?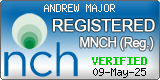 If you're ready for change and determined to succeed, please get in touch without obligation to find out how I can help.
Free parking available at each practice location
All major credit and debit cards accepted
Hypnotherapy also available via Skype or Zoom