Thanks for getting in touch…
I aim to respond to all questions and queries within 24 hours. Alternatively, feel free to give me a call anytime on 07464 682 389 so we can get started right away.
Hypnotherapy can help with all kinds of issues
Solution Focused Hypnotherapy is a safe and powerful psychotherapeutic tool which can help with the causes of many issues. You'll find some of the conditions below, if your particular issue isn't shown, please ask, there is a good chance I'll be able to help.
Feelings of Anxiety

Over Thinking & Constant Worry

Insomnia and Disturbed Sleep

Managing Stress Levels

Panic Attacks

OCD
Fears and Phobias

Confidence

Self-Esteem

Obsessive Compulsive Disorder

Anger Management

Stress Related Conditions
Weight Management

Sports Performance

Stop Smoking

Pain Management

Motivation

Irritable Bowel Syndrome 
How does Solution Focused Hypnotherapy work? 
Solution Focused Hypnotherapy is a collaborative process, we focus on the positive changes that are most important to you without dwelling on past problems. The solution focused approach helps you move forwards and create positive change in a relatively short period of time.
My solutions focused techniques are based on the latest research from neuroscience and incorporate the very best elements of Cognitive Behavioural Therapy (CBT) and Neuro Linguistic Programming (NLP). Each therapy session begins with a period of psychotherapy (talking), designed to encourage you to think positively, which is extremely beneficial.
We also talk about how the brain works to create many unwanted symptoms and behaviours and I explain how you can harness its powers to make lasting and positive changes in your daily life.  The sessions are enhanced by the application of hypnosis, which enables the subconscious mind to make beneficial changes. A deeply relaxing and uplifting experience.
Here's what my clients are saying…
"I started seeing Andrew as I had crippling anxiety to the point, I was afraid of everything in life, couldn't even face doing a weekly shop and my Son told me I was always crying and unhappy.
Andrew was kind and listened to my concerns and helped me understand why I had anxiety and how to beat it. The hypnotherapy was relaxing, I'm now a happier more confident person, more my old self again. I am so grateful to Andrew for his help and would recommend his help to everyone."
Jean, Hampshire
Andrew Major
Solution Focused Hypnotherapist and Psychotherapist
HPD, DSFH, AfSFH-Reg, MNCH-Reg, CNHC-Reg, MNCP
I'm a professional qualified Solution Focused Clinical Hypnotherapist practicing in Farnham and Bagshot and working with clients further a-field online. I have a a Diploma in Hypnotherapy and Psychotherapy, (DSFH). I've also been awarded the prestigious Hypnotherapy Practitioner Diploma (HPD), considered to be the 'gold standard' hypnotherapy qualification.  I'm passionate about what I do, what could be more rewarding than helping people make the positive changes they need to feel better, happier and more motivated to enjoy life?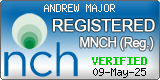 Free parking available at each practice location
All major credit and debit cards accepted
Hypnotherapy also available via Skype or Zoom